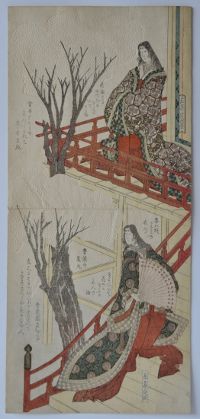 Click here to view image full size.
An uncut vertical surimono diptych showing two young women in court finery from the Heian period (794-1185). This being considered the finest and most cultured period in Japanese history. One stands on a balcony, the other on steps leading to the balcony overlooking a flowering cherry tree. Extremely rare: The separated design is in the MET, JP2062 and JP2061as well as them having an uncut example, JP1101. These vertical diptych designs were printed on a single sheet of hosho from a single block but with a horizontal crease between what would be the two separate surimono of conventional size. There are also two vertical diptych designs known which form a four surimono picture but these are even rarer.
Extremely fine impression, colour and condition. Extensive silver and blind-printing. Signed Gakutei Sadaoka hitsu and Gakutei Sadaoka.
Status: Sold