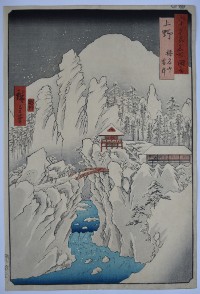 Click here to view image full size.
A snow scene showing the dramatic landscape around Mount Haruna: Kozuke, Haruna-san setchu, "Snow on Mount Haruna in Kozuke Province." Shows the volcanic mount – one of three major mountains in the province – with Haruna Temple in the centre. The building housed a statue of a thousand-armed kannon, bodhisattva of mercy. One of the best designs from the set Rokuju yoshu meisho zue, "Famous Places in the Sixty-odd Provinces." The set published by Koshimuraya Heisuke between 7/1853 and 8/1856 (this being 1853).
Fine, early impression. The most difficult print from the set to identify in the first edition. Most designs in the set have distinctive features in the first state such as variegated cartouches or extra gradation. The only indication here is that the sub-cartouche should have a brown-red colour. Fine colour and condition. Signed Hiroshige ga.
Status: Sold