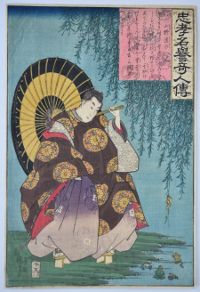 Click here to view image full size.
Ono no Tofu (Michikaze) in court robes learns perserverance by watching the efforts of a frog to climb a branch of a willow tree. From a set Chuko meiyo kijin den, "Stories of Remarkable Persons of Loyalty and High Reputation." Published c. 1845 by Enshuya Matabei. Robinson S35.10.
Fine impression and colour. Very good condition. Signed Ichiyusai Kuniyoshi ga.
Status: Sold