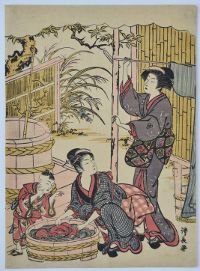 Click here to view image full size.
A chuban print showing a woman at a washtub watched by a small child. Another woman is hanging a kimono out to dry. Without any series title but with a scalloped cloud above which may have been intended to have a title. Published c. late 1770s. Rare: Not listed in Hirano, Chie Hirano, Kiyonaga, MFAB, 1939.
Superb impression, colour and condition. Possibly a proof impression. Signed Kiyonaga ga.
Status: Sold