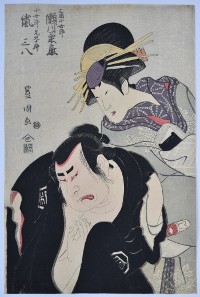 Click here to view image full size.
Segawa Kikunojo III as the courtesan Kojoro of the Mikuni House (Mikuni Kojoro) and Arashi Sanpachi I as her elder brother Kujuro (Kojoro ani Kujuro) in the play Tomigaoka koi no yamabiraki by Namiki Gohei performed at the Kin-za in the 1st month of 1798. The design shows the evil cormorant fisherman Ugai Kujuro attempting to extract money from his younger sister whom he had previously sold into prostitution. He is eventually murdered by the hero Shimbei who is in love with Kojoro. Published by Nishimuraya Yohachi. Rare: A faded example in B.M. (1906, 1220, 0.391). And another faded impression in the Museum of Fine Arts, Boston, acc. No. 11.13701. One of the great Toyokuni double bust portraits.
Fine impression and colour. Very slight trimming at bottom, otherwise fine condition. Signed Toyokuni ga.
Status: Sold