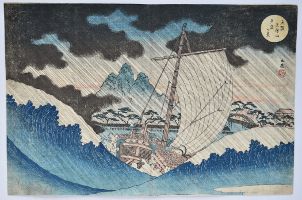 Click here to view image full size.
A sailing junk caught in stormy seas, driving rain, and under a threatening sky. The masterpiece from a set of six prints issued in album form with title Naniwa meisho, Tempozan shokei ichiran, "A Famous Place in Osaka, Selected Views of Mount Tempo." Published in Osaka, 1834, by Shioya Kisuke. In the circular cartouche: Osaka Tempozan yudachi no kei, "View of a Storm at Tempozan, Osaka."Gakutei is best known for his many surimono. He was also a kyoka poet and painter. Unfortunately he produced few landscapes. Other impressions illustrated in Michener, Japanese Prints, no. 198; Mellor sale catalogue, Sotheby, July 1963, pl. XXXI; and Grabhorn, Landscape Prints of Old Japan, pl. 30. SC I/344. One of the great 19th century landscapes.
Fine impression. Very good colour. Slight trimming at bottom and backed centre fold (as usual as it was published in folding album form), otherwise good condition. Signed Gogaku with seal Go.
Status: Sold