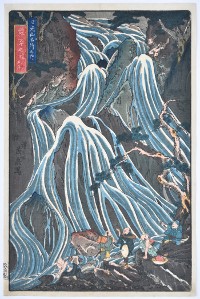 Click here to view image full size.
Although Eisen produced a considerable number of bijin-e and surimono, his best work was in landscape design and amongst these the finest are this set and a few designs for the Kisokaido. Somen-no-taki, "Somen Waterfall." From a set Nikkozan meisho no uchi, "Celebrated Views in the Nikko Mountains." The set of eight prints published by Yamamotoya Heikichi, c. mid 1840s. The set obviously invites comparison with Hokusai's earlier waterfall set but they are chunkier, more prosaic and with the movement of the water more defined. Shows travellers at the base of the fall.
Fine impression. (There do not appear to be late impressions of this set – presumably it was not popular at the time.) Fine colour. Imperceptible fold, otherwise fine condition. Signed Eisen utsusu.
Status: Sold