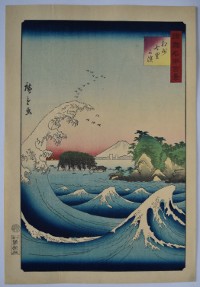 Click here to view image full size.
The Seven Ri Beach, Sagami Province, Sagami Shichirigahama, from an unfinished set Shokoku meisho hyakkei, "One Hundred Views of Famous Places in the Provinces." Published by Uoya Eikichi between 1859 and 1861 (this being 1859). A popular area during Edo times as one could get a view of both Mount Fuji and Enoshima at the same time. The Ri in the title is an old unit of measurement. This design obviously bears comparison with both Hiroshige's "wave" from the Thirty-Six Views of Fuji and Hokusai's "wave" from a series with same title.
Superb impression of the first edition. (Extremely rare in this state.) Very fine colour and condition. Signed Hiroshige ga.
Status: Sold