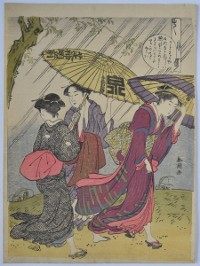 Click here to view image full size.
A chuban print showing a group of beauties caught in a downpour on the banks of a river. The centre figure has an umbrella with the publisher's name Izumi [ya Ichibei] and address Shiba Jinmeimae which was in front of Shiba Daijingu Shrine. One of a set Nana Komachi, "The Seven Komachi," being episodes in the life of the famous waka poetess Ono no Komachi (c. 825-c. 900). Little is known of Shuncho's life except that he was a pupil of Katsukawa Shunsho and was then heavily influenced by Kiyonaga. He produced some particularly fine triptychs and pillar prints. Published c. early 1790s.
Superb impression, colour and condition: As the day it was printed. Signed Shuncho ga.
Status: Sold