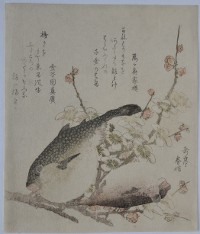 Click here to view image full size.
A surimono showing plum blossom and fugu (blowfish or puffer, Fugu pardalis). These fish are infamous for being poisonous, mainly from their liver and are expensive delicacies in the winter. Extremely rare: Two other genuine impressions are in the Museum of Fine Arts, Boston, acc. no. 21.9297 and illustrated in Coloured in the Year's New Light, Japanese surimono from the Becker collection, Daniel McKee, 2008, Johnson Museum of Art, Cornell University, no. 15. There are also copies of this surimono which is how one will come across it. Poems above by Mahmansai Iedaru and Kanayaen Mahiro. Published c. late 1810s. Gakutei is best known for his surimono but he was also an accomplished painter and produced a fine set of landscape prints of views of Tempozan.
Fine impression and colour. One small repaired wormhole, otherwise very good condition. Signed Gakutei Harunobu.
Status: Sold