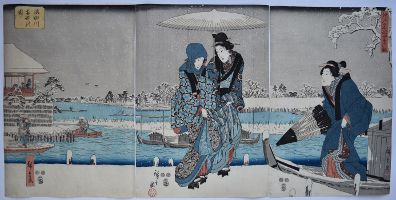 Click here to view image full size.
Winter from a set of four triptychs: Edo meisho shiki-no nagame Sumidagawa setchu no zu, "Views of the Four Seasons at Famous Places in Edo, Snow on the Sumida River." A famous print. Published by Marujin, 1848-9. Shows beauties and ferry boats on the river, a tea-house on the left.
Fine impression. Slight fading, otherwise very good colour. Very good condition. The block for the centre panel had vertical cracks in it from the very start. These striations are evident to the left and right of the figures and are on all impressions, becoming more evident on later pulls. Signed Hiroshige ga.
Status: Sold