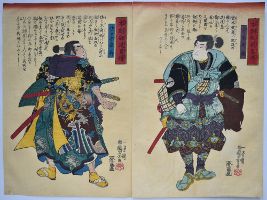 Click here to view image full size.
A complete diptych showing Miyamoto Musashi dressed for travelling looking across at Sasaki Kojiro who stands in profile with clenched fist. These two great swordsmen agreed to fight on April 13, 1612, on Ganryu Island off the coast of Bizen Province. The outcome was that Musashi killed Kojiro. From a set of prints Kendo ryaku den "Abridged Stories of Our Country's Swordsmamship." Published by Kadzusa-ya Iwazo, c. 1845-6. Robinson S37.16.18. The complete diptych is rare.
Very fine impression, colour and condition. Signed Ichiyusai Kuniyoshi ga.
Status: Sold