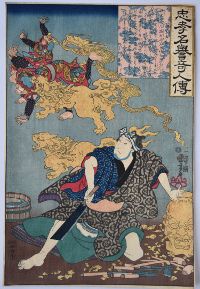 Click here to view image full size.
The sculptor Hidari Jingoro from the set Chuko meiyo kijin den, "Stories of Remarkable Persons of Loyalty and High Reputation." Published by Iseya Ichiemon or Enshuya Matabei (this design) 1845. Robinson S35.2. Although possibly fictitious, there are nevertheless many sculptures around Japan attributed to him. So accomplished was he that his pieces often came to life, as here, where a dragon and two lions chase the pursuers of his Lord's wife.
Superb impression and colour. Very slight crinkling and trimmed close, otherwise fine condition. Signed Ichiyusai Kuniyoshi ga.
Status: Sold