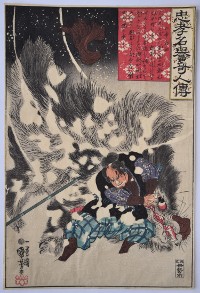 Click here to view image full size.
The samurai Yamamoto Kansuke from the set Chuko meiyo kijin den, "Stories of Remarkable Persons of Loyalty and High Reputation." Published by Iseya Ichiemon (this design) or Enshuya Matabei 1845. Robinson S35.16. One of Takeda Shingen's most trusted 24 Generals. He is shown fighting a wild boar in deep snow. A fine design.
Very fine impression and colour. Very slight crinkling and trimmed close, otherwise fine condition. Signed Ichiyusai Kuniyoshi ga.
Status: Sold