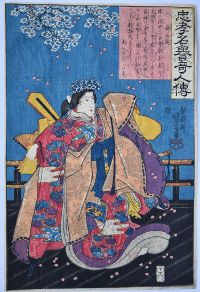 Click here to view image full size.
Shidzuka-gozen or Lady Shidzuka from the set Chuko meiyo kijin den, "Stories of Remarkable Persons of Loyalty and High Reputation." Published by Iseya Ichiemon or Enshuya Matabei (this design) 1845. Robinson S35.12. She was a renowned 12th century shirabyoshi (court) dancer who achieved fame after 100 Buddhist monks and 99 other dancers failed to bring much needed rain.
Superb impression and colour. Very slight crinkling and trimmed close, otherwise fine condition. Signed Ichiyusai Kuniyoshi ga.
Status: Sold