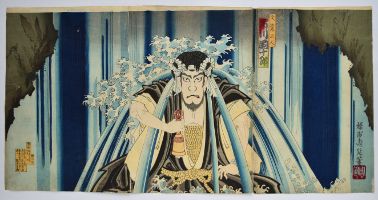 Click here to view image full size.
A fine triptych showing the actor Ichikawa Danjuro IX (1838-1903) as the priest Mongaku Shonin. The priest is shown, with Buddhist bell in hand, beneath the freezing waters of the Nachi Waterfall doing penance for inadvertently killing his cousin and lover, Kesa Gozen. Eventually the deity Fudo Myo-o takes pity on him and helps him through the ordeal. Danjuro also played the role of Fudo Myo-o in this performance of the play Hashi kuyo bonji no Mongaku, "The Austerities of Mongaku" at the Ichimuraza Theatre, May 1883. The Danjuro family worshipped the deity Fudo Myo-o. Published by Morimoto Junzaburo, 1883. This must have been a particularly successful performance as there are a number of prints commemorating it and it is listed as one of the great roles of his canon.
Fine impression and colour. One careful area of restoration, otherwise very good condition. Signed Yoshu Chikanobu fude.
Status: Sold