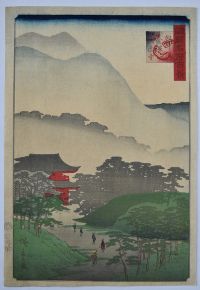 Click here to view image full size.
Kashu Kanazawa Daijo-ji. Kashu (Kaga) Province from the "Hundred Views of Famous Places in the Provinces." An uncompleted set of 81 prints published by Uoya Eikichi between 1859 – 1861 (this being 1859). Shows the famous Zen temple. The mountains behind shrouded in mist, beautifully conveyed by expert wiping of the blocks in Shijo-style. One of my favourite landscape prints.
Very fine impression of the first edition. Fine colour and condition. Signed Hiroshige ga.
Status: Sold