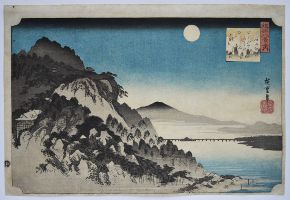 Click here to view image full size.
Ishiyama no shugetsu, "Autumn Moon at Ishiyama" from a set of prints Omi hakkei no uchi, "Eight Views in Omi Province." Shows Lake Biwa with Seta Bridge and Mount Hira in the distance. To the left is the temple where Murasaki Shikibu wrote her famous Tales of Genji. Published by Takenouchi, c. 1834-5. A guarantee label and seal au verso from the now deceased dealer M. Nakazawa.
Fine impression: There is a curious feature on this print in that the blue sky block is invariably printed short of the mountain, top left, giving a white gap around the mountain. This is one of the few impressions I have seen where it is barely visible. Fine colour. Slight edge soil, otherwise very good condition. Signed Hiroshige ga.
Status: Sold