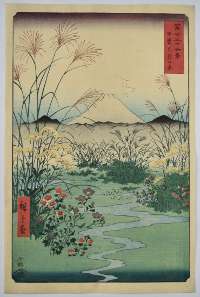 Click here to view image full size.
Kai Otsuki no hara, "The Otsuki Plain in Kai Province". A meandering stream with flowers and pampas grass from Fuji sanjurokkei, "Thirty-six Views of Fuji" published by Tsutaya Kichizo, 1858. The set was started 5 months before Hiroshige's death and early impressions were printed very carefully as a tribute to Hiroshige. One of the six best designs from the set.
Fine impression, colour and condition. Signed Hiroshige ga.
Status: Sold