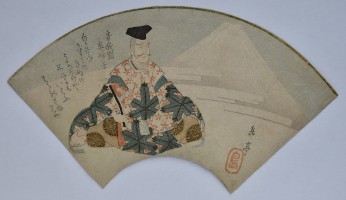 Click here to view image full size.
A surimono – one of a series that Gakutei designed in the curved shape of a folding fan. Shows a seated poet before Mt. Fuji holding a fan and dressed in courtly robes with a New Year pattern of pine trees and an eboshi cap. Two others from the set are illustrated in The Art of Surimono, Roger Keyes, Sothebys, 1985, pl. 47, p. 89; and Sammeln Magazin, Nr. 6, Juni 1985, p.15. Issued c. 1821. Provenance: Ex Toni Strauss Negbaur collection, seal au verso.
Fine impression with Mount Fuji blind-printed. Very good colour and condition. Signed Gakutei.
Status: Sold