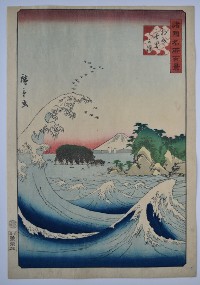 Click here to view image full size.
Soshu Shichirigahama, the "Seven Ri Beach" near Kamakura, Kanagawa Prefecture. From the set Shokoku meisho hyakkei, "The One Hundred Views of Famous Places in the Provinces." From the beach one gets a clear view of Fuji and Enoshima Island – both framed by a giant wave. The set (of which only 80 are known) was published by Uoya Eikichi, 1859-61 (this being 1859). Hiroshige's foremost pupil. He was called Shigenobu until assuming the name Hiroshige II on Hiroshige's death. Married his daughter.
Very good impression and colour. Very slight stain in cartouche, otherwise very good condition. Sugned Hiroshige ga.
Status: Sold