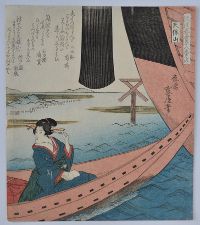 Click here to view image full size.
A surimono by an Osaka artist from a series with title Hasoku shunsho juhachi-ban no uchi,"Eighteen Pieces Praising Spring Near the Water." Sub-title: Tenpozan (the name of the new port in Osaka Bay). Shows a girl in a boat beside the prow of a larger vessel. The Osaka port sign is seen in the background. Three poems above. Rare.
Fine impression and colour with touches of gold and silver. Very slightly trimmed left, otherwise fine condition. Signed Oju Madoya hitsu.
Status: Sold