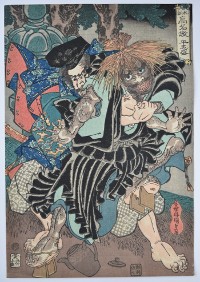 Click here to view image full size.
Taira no Tadamori (1096-1153) grappling with the oil thief from a set: Honcho komei kagami, "A Mirror of our Country's Renowned Heroes." Published by Joshuya Kinzi, c 1835. The story relates how the Emperor Shirakawa was perturbed by a monster in the precincts of the Mido Temple at night. The samurai Taira no Tadamori was ordered to kill the beast only to discover a harmless old monk who steals a little oil from the stone lanterns. Kunisada designed a number of sets like this around this date.
Fine impression and colour. Very slightly trimmed, otherwise very good condition. Signed Kochoro Kunisada ga.
Status: Sold