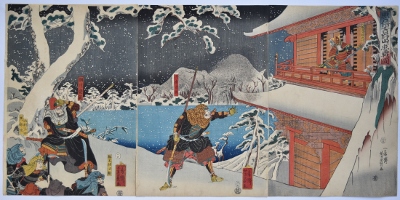 Click here to view image full size.
The battle in snow at the Go-ju-no Pagoda on Mt. Yoshino. Sato Shirobyoe Tadanobu, a follower of Minamoto no Yoshitsune, swiches armour with Yoshitsune to do battle with the warrior monks led by Yokogawa Kakuhan. Published 1858 by Maruya Jinpachi.
Extremely fine impression with extensive splashed and sprayed gofun. Fine impression and condition. Signed Ichijusai Yoshikazu ga.
Status: Sold