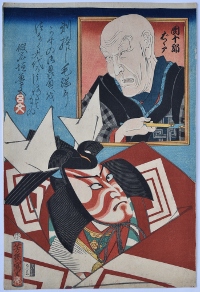 Click here to view image full size.
An Ichikawa Danjuro memorial portrait showing Kawarazaki Gonjuro I (Danjuro IX, 1838-1903) in the Shibaraku role looking up at his father, Danjuro babaa (Ichikawa Danjuro VII [1791-1859]) who had died the previous year. It was some years before Gonjuro finally adopted the Danjuro name in 1874. Published by Ebisuya, 1860.
Fine impression, colour and condition. Signed Yoshiiku ga.
Status: Sold