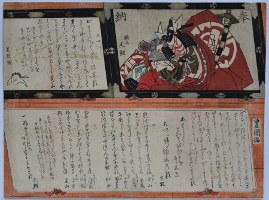 Click here to view image full size.
A surimono in the form of an ema (literally "picture-horse") which were votive tablets left at Shinto shrines. The upper right plaque shows an actor in Shibaraku role with characters reading ganshu (temple petitioner) Bunri. Below, ten poems by poets from Edo, Kyoto and Osaka. The poem below the actor is signed Shikan which was the stage name and literary name of Nakamura Shikan I (Utaemon III, 1778-1838) who is most likely the actor portrayed. The text on the top left panel begins with San kudari indicating the 3rd came back, suggesting a return by Utaemon to Edo from acting in Kyoto or Osaka. Issued c 1810s. Very rare.
Very good impression, colour and condition. Signed Toyokuni ga.
Status: Sold