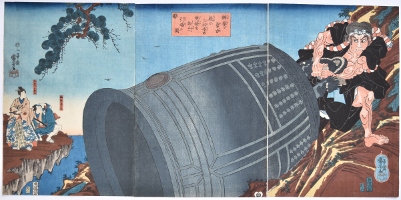 Click here to view image full size.
A triptych showing Ushiwakamaru (Minamoto no Yoshitsune, 1159-1189) and his manservant Onmaya Kisanta watching his loyal retainer, the warrior monk Benkei, dragging the giant Mii Temple bell up Mount Hiei. Benkei ga yuriki tawamure ni Miidera no tsurigane no Eizan e hikiaguru zu. Published by Ibaya Senzaburo, 1845-6. One of Kuniyoshi's great designs. Rare.
Fine impression. Very good colour. Some edge strengthening on the back on centre sheet, otherwise very good condition. Full size: An extremely difficult design to find without trimming and illustrated examples often have the bell not aligning up because of this. Signed Ichiyusai Kuniyoshi ga.
Status: Sold