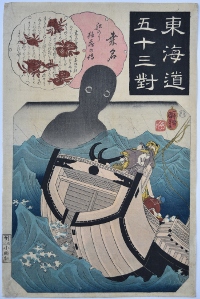 Click here to view image full size.
The apparition of the Sea Monk, Umibozu, looming above the sailor Kawanaya Tokuzo. The best design from the Tokaido gojusan tsui, Station 41, Kuwana. The legend has it that Tokuzo, against the advice of his peers, went to sea on the last day of the year. He subsequently experienced huge seas and the monster who demanded to know what was the most horrible thing he knew. He replied that his profession was the most horrid. Satisfied, the creature descended into the Stygian gloom and the storm abated. Published by Kojima-ya Jubei, c. 1845. Illustrated in Robinson, Kuniyoshi, HMSO, 1961, no. 49.
Fine impression. This is an alternative version to the norm with lighter printing to the waves. Fine colour. Slight edge soil, otherwise very good condition. Signed Ichiyusai Kuniyoshi ga.
Status: Sold