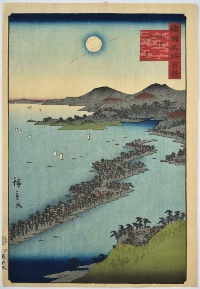 Click here to view image full size.
A view of Ama-no-hashidate, Tango Province, from Shokoku meisho hyakkei, the "Hundred Views of Famous Places in the Provinces." An uncompleted set of 81 prints published by Uoya Eikichi between 1859-1861 (this being 10/1859). The place name can be translated as "Bridge to Heaven" and it's considered to be one of the most beautiful areas in Japan. Seen here under a full moon.
Superb impression of the first edition: One of the earliest pulls from the blocks. Fine colour and condition. Signed Hiroshige ga.
Status: Sold