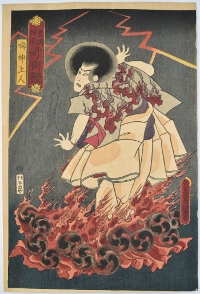 Click here to view image full size.
Narukami Shonin, a wicked priest, from the play Narukami. One of a set Toyokuni kigo kijutsu kurabe, "A Contest of Magic Scenes by Toyokuni." The series published by Hiranoya Shinzo, 1862. The set is known for its deluxe printing.
Superb impression and colour. Fine condition. Signed Kio Toyokuni hitsu (77 year's old).
Status: Sold