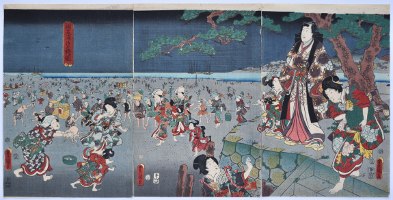 Click here to view image full size.
A triptych showing Prince Genji (far right) on a stone terrace looking out at Suma Beach, Akashi, thronged with visitors enjoying themselves. Two of his party look as though they are going to collect shells. A mitate of Chapter XIII of the Genji Monogatari where Genji is exiled at Akashi, Akashi no ura shiogari no zu. There was a proliferation of sets based on the original Genji Monogatari and the Ryutei Tenehiko (1783-1842) update at this time. Published by Yamaguchiya Tobei, 1/1855.
Fine impression and colour. Bokashi on the edge of the bay at top (missing on later editions). Fine condition. Signed Toyokuni ga.
Status: Sold