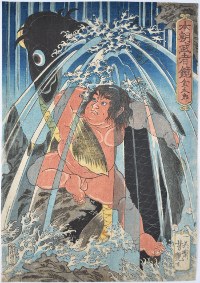 Click here to view image full size.
The young Kintaro, aka, Kintoki, Sakata Kaidomaru. He is shown fighting a giant carp in a waterfall from a series: Honcho musha kagami, Kintaro, " Mirror of Warriors of Our Country, Kintaro." This child of superhuman strength is often depicted with the animals living on Ashigara mountain where he honed his fighting skills and was spotted by Minamoto Yorimitsu (944-1021), under whom he went on to serve.Yoshitsuya was a pupil of Kuniyoshi and this print can be compared to a famous design by Kuniyoshi of the same subject published in 1836. Published by Tsujiokaya Bunsuke, 7/1856.
Very good impression and colour. Slight creasing, otherwise good condition. Signed Ichieisai Yoshitsuya ga.
Status: Sold