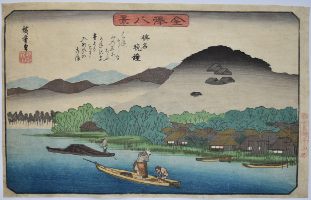 Click here to view image full size.
Shomyoji-no bansho, "Vesper Bells at the Shomyoji Temple" from the rare early set Kanazawa hakkei, "Eight Views of Kanazawa." The temple was built in 1258 by Hojo Sanetoki; the environs are seen on the right with boats in the foreground. The distant hills are printed without key-block outlines giving a painterly quality. These Eight View sets were inspired by the Eight Views of Xiaoxiang in China, first painted in the 11th century and then brought to Japan in the 14 – 15th centuries. Kanazawa is across Japan from Tokyo on the north coast on the Japan Sea. Published by Koshimuraya Heisuke, 1835-6.
Very good impression and colour. Slight margin soil and small expert repair to bottom left corner. Signed Hiroshige ga.
Status: Sold