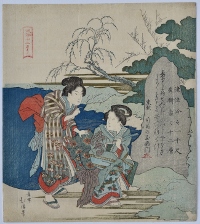 Click here to view image full size.
A surimono showing two beauties by the pond at Tsunowazu Kumano Shrine in Yotsuya. The title is: Yotsuya Juniso, referring to the twelve shrines at Tsunowazu in Yotsuya. The poem on the large stone is by Shibanoya and refers to the peacefulness of the place with the willows and water. The other writing directs visitors to the cool of the nearby waterfall and the Unju forrest.
Fine impression with silver and gold. Fine colour and condition. Signed on request, Motome ni ojite Hokkei fude.
Status: Sold