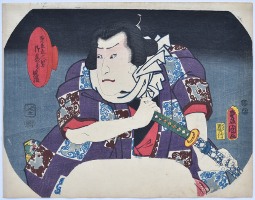 Click here to view image full size.
An uncut fan print showing the actor Bando Takesaburo I in the role of the Sumo wrestler Shirafuji Genta from a set: Mitate gonin otoko go-hiiki omozashi, An Imaginary Five Commoners." Published by Yama-Ta, 2ic/1852.
Superb impression with mica added to sky and burnishing. Superb colour and condition: From a group of such fans that are as the day they were first printed and must have been put together by a fan collector. Signed Toyokuni ga.
Status: Sold