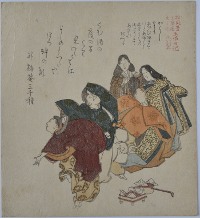 Click here to view image full size.
A surimono showing court figures dancing from a series: Shofudai Hisakataya Bunbunsha Tosa Nikki, "The Tosa Diary for the Shofudai, Hisakataya and Bunbunsha Poetry Groups." Issued late 1810s. For another from this series see: Jewels Of Japanese Printmaking: Surimono Of The Bunka-Bunsei Era 1804-1830, Joan B. Mirviss, Ota Memorial Museum of Art, 2000, no. 85, p. 131. Rare: Possibly the only known impression.
Fine impression. Very good colour. Lightly backed, otherwise very good condition. Artist's seal Sho Shumman.
Status: Sold