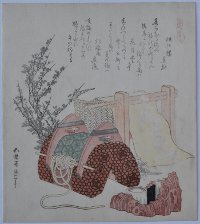 Click here to view image full size.
A surimono, Umazakushi, showing a saddle and cotton-gin from Watakuri uma, "A Series of Horses." Issued for the Yomogawa club, 1822. Shows a horse's saddle, a cotton-gin, basket of cotton floss and a branch of plum. A smoking set in the foreground. This set followed on from the success of the Shell surimono series issued in 1821. Twenty eight designs are known. The title (in a red gourd) top right is hand-stamped. Rare.
Fine impression with silver, gold and blind-printing. Fine colour. Minor soil, otherwise very good condition. Signed Fusenkyo Iitsu hitsu.
Status: Sold