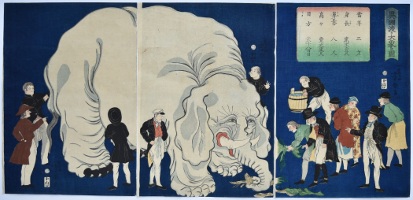 Click here to view image full size.
A triptych showing a large elephant being inspected, watered and fed by foreigners. Ikoku watari taizo no zu. "Picture of a Big Elephant Brought from Overseas." Beside the title in a box are the details of the animal: Three years old this year (1868); length 6 metres 38 cms; length of nose 3 metres 4 cms; tall 3 metres 76 cms; weight 2800 me. Published by Yamaguchiya Tobei. Rare: Not in any of the standard Yokohama books.
Fine impression and colour. Very good condition. Signed Ichibaisai Yoshiharu ga.
Status: Sold