Click here to view image full size.
A fine Shijo handscroll, sumi and light colour on paper, 11.13 x 423.5 in; 28.26 cm x 10.76 metres. Gito was an early pupil of Goshun who, although he died young, produced enough work to show him to be a highly gifted artist with great ability in landscape, figure and kacho-e. Shows various Kyoto activities and festival preparations. Signed Gito utsusu with hand-drawn seals. There is also a dedication signed and dated, Bunka 8 (1811) February, by Kamono Suetaka (1754-1841) a scholar of Japanese philology and philosophy (Kokugakusha) and also a poet who lived in Kyoto and was presumably a friend of Gito.
Light edge stains, otherwise very good condition. These early quality handscrolls are now very difficult to find.
Status: Sold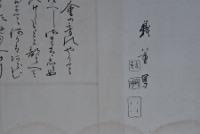 here to view image full size.