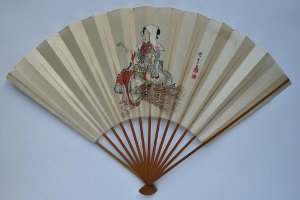 Click here to view image full size.
A fine original fan painting showing a woman of Ohara; a mountain village north of Kyoto. These Oharame collected brushwood and firewood in the fall to sell in Kyoto. They are often depicted and obviously caused a stir when they entered Kyoto to ply their trade. The custom has evidently been going on since the 12th century. She is shown holding a flower and sitting on her bundle of firewood.
Full colour on prepared paper mounted as a fan, 6.5 x 17in; 16.5 x 43.2 cms (paper area). In very good condition. Signed Kunisada ga with indistinct seals, probably Kuni Sada. A charming painting.
Status: Sold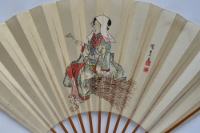 Click here to view image full size.