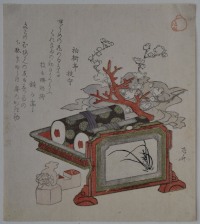 Click here to view image full size.
A surimono still life showing two handscrolls, a small screen, a branch of coral, a branch of plum blossom and two seals. (Coral and plum blossom are associated with the new year.) One of the seals has a tiger on top, possibly indicating this surimono was issued for the Tiger year 1818. From a series of still life surimono produced by the Taiko-gawa (Drum Poetry Group), their seal top right. Shinsai was one of Hokusai's best pupils and is primarily known as a surimono designer. In fact, this surimono seems to have been reissued without the Drum seal and different poems. (See The Art of Surimono, Roger Keyes, Sotheby, 1985, no. 286, p. 334.) One poem by Rankotei Dondontei.
Very fine impression. Fine colour with gold and silver. Small crease top right and minor signs of mounting au verso, otherwise very good condition. Signed Shinsai.
Status: Sold