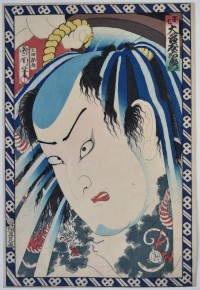 Click here to view image full size.
The actor Otani Tomoemon V as Danshichi Kurobei, a fishmonger and an Osaka otokodate, in the drama Natsu matsuri Naniwa kagami, "Summer Festival: Mirror of Osaka." From an untitled set of large-head actor portraits published by Gusokuya Kahei, 1869. Based on actual events, the scene depicted here is from Act VII of the play where the heavily tattooed Danshichi has murdered his wife's father, the untrustworthy Mikawaya Giheiji, and is pouring water from a bucket over himself to wash off the mud from the murder scene. Probably the best design from the set.
Fine impression and colour. Very good condition. Signed Kunichika hitsu.
Status: Available