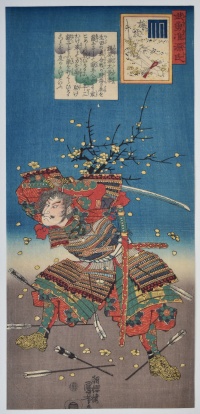 Click here to view image full size.
Chapter 32: Umegaye, "Plum brach" from an o-tanzaku set: Buyu nazorae Genji, "Heroic Comparisons for the Chapters of Genji." Shows the Minamoto samurai Kajiwara Genda Kagesuye (1162-1200) fighting at Ikura-no-mori during the Genpai wars between the Taira and Minomoto clans. He has a plum branch stuck in his utsubo "quiver" in honour of his love Umegaye. The branch makes him an easy target for his enemies but he fights on regardless. Published by Ibaya Sensaburo, c 1843.
Very fine impression. Fine colour. Slightly trimmed at bottom, otherwise fine condition. Signed Cho-o-ro Kuniyoshi ga.
Status: Available