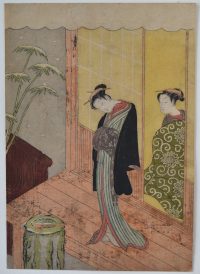 Click here to view image full size.
A winter scene with a young courtesan on an engawa gazing at an upturned ladle resting in a water basin formed from a hollow tree trunk. Behind her a young beauty peers out through the shoji. The scene calls to mind the Bell of Damnation (Muken no kane) act in the play Hiragana Seisuiki where Umegae strikes the water basin with a ladle to produce gold coins. Harushige was the ukiyo-e go of Shiba Kokan, the first artist to try copper plate engraving and who studied oil painting and etching from books he saw in Nagasaki. For a time a pupil of Harunobu whose style his prints resemble. Extremely rare: I cannot, at the moment, locate another impression. Published c early 1770s.
Fine impression. Extremely good colour, the orange pigment partly oxidised. Possibly slightly trimmed left and bottom, otherwise very good condition.
Status: Available