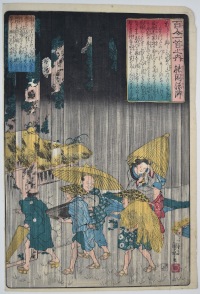 Click here to view image full size.
A poem by the celebrated poet and monk Noin-hoshi from the series Hyakunin isshu no uchi, "One Hundred Poems for One Hundred Poets" which was compiled in 1235 by Fujiwara Teika (1162-1241). A group of travellers are caught in a torrential downpour. One of the best designs in the set published by Ebisuya Shoshichi, Ebine, 1840-42. Only 58 of the 100 are known. Various translations of the poem exist, here is one:

The maples and leaves
Of Mount Mimura –
Making the Tatsuta River
A fine brocade


Very fine impression. Fine colour. Slight nibbling on one margin, otherwise fine condition. Signed Ichiyusai Kuniyoshi ga.
Status: Available