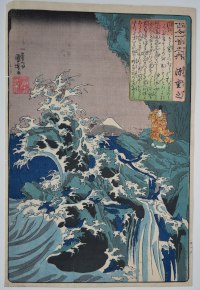 Click here to view image full size.
A poem by the celebrated poet Minamoto no Shigeyuki from the series Hyakunin isshu no uchi, "One Hundred Poems for One Hundred Poets" which was compiled in 1235 by Fujiwara Teika (1162-1241). Shows the poet on a craggy outcrop with waves crashing around him; Fuji in the distance. One of the best designs in the set published by Ebisuya Shoshichi, Ebine, 1840-42. Only 58 of the 100 are known. Various translations of the poem exist, here is one:
Waves that beat against the rocks
Fanned by a fierce wind –
It is I alone
Who breaks, those times
When I think of her
Very fine impression. Fine colour and condition. Signed Ichiyusai Kuniyoshi ga. Hiroshige ga.
Status: Sold