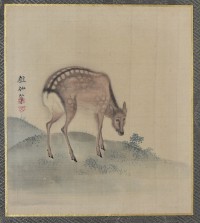 Click here to view image full size.
A fine surimono-sized painting, light colour on silk, 7.75 x 7 in; 19.5 x 17.8 cms. Shows a female sika deer. His life is not well documented but he is known to have studied under the Kano artist Yamamoto Joshunsai (?-1781) before being drawn into Maruyama Okyo's (1735-1795) artistic circle and his style is more Shijo than anything else. His animal paintings were evidently highly valued by Okyo. He was an immediate favourite with eastern collectors because of his monkey paintings at which he excelled, although he was more versatile than literature implies and highly accomplished at painting other animals. But his images of monkeys take precedence and he is considered the pre-eminent painter, east or west, on this subject. It is alleged that he lived in the woods for three years eating fruit and nuts to study the monkeys and other animals, and is also supposed to have had a cage of monkeys at the back of his house to better observe them.
Very good condition, unmounted. Signed Sosen hitsu with seals So, Sen.
Status: Available