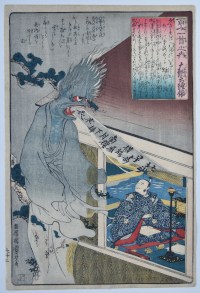 Click here to view image full size.
The poet Dainagon Tsunenobu (1016-97), seated at the window of his study having recited his most famous poem which speaks of the evening breeze in Autumn, is visited by an enormous ghost who screams a poem by the Chinese poet Bai Juyi (Jap: Hakuraten). From a set Hyakunin isshu no uchi, "One Hundred Poems by One Hundred Poets." A compilation by the celebrated poet Fujiwara Teika in 1235. Only 58 of the set are known published by Ebine c 1840-42. A number of variant impressions exist of this design with the apparition printed either much darker or lighter, or the background darker and other minor differences. These all appear to be contemporaneous as the printers experimented. This impression appears to be the most successful. A fine design from an underrated set.
Fine impression, colour and condition. Signed Chooro Kuniyoshi ga.
Status: Available