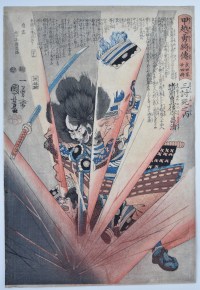 Click here to view image full size.
The general Morozumi Masakiyo, Lord of Bungo and a retainer of the Takeda Clan (Shingen of Kai Province) in a battle with the Uesugi Clan (Kenshin of Echigo Province), The wars taking place between 1553 and 1563. From a set Koetsu yusho den, "Stories of Courageous Generals of the Provinces of Echigo and Kai." Masakiyo is shown committing suicide by inserting his sword into his mouth while being blown up by a land-mine. As with so much in Japan, the land-mine originated in China from early times. Published by Sumiyoshiya Masagoro, c 1848-9. One of the "three great deaths" of these wars.
Very good impression with extensive sprayed pigment around the exploding mine. Slight fading, otherwise very good condition. Signed Ichiyusai Kuniyoshi ga.
Status: Available