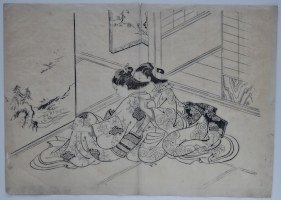 Click here to view image full size.
A sumizuri-e print, probably from a set of 12 issued in album form, showing two courtesans, one holding a love letter which she is either delivering or collecting. Its difficult to intuit what is happening. Sukenobu was unusual in spending his working life in Kyoto.
Very good impression. Centre fold (as usual) and small wormage on left and right border.
Status: Sold